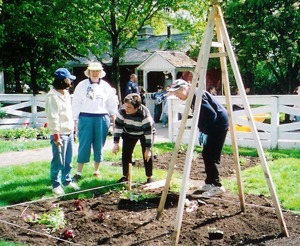 Cress Creek Garden Club 
Cress Creek Garden Club is an organization dedicated in promoting gardening in our community. We are affiliated with the Garden Clubs of Illinois, Inc. and The National Garden Clubs, Inc. Our monthly meetings are held at Cress Creek Country Club on the second Friday starting in September and running through May. Each month, our sessions start with a thirty minute "social" and our meetings start at 11:00 A.M. with our president calling the meeting to order and discussing business pertinent to the club. Committee updates follow presented by various chairman with lunch served at 12:00 Noon. We finish with an hour program, workshop or field trip that includes a speaker with a fresh idea, project or gardening adventure to share with members and leaves us inspired to go out and make the world a more beautiful place.
Members join CCGC bringing a wide array of horticulture knowledge (although, not a requirement) attained through their own gardening experiences, schooling, reading, etc. This allows all members to share and learn from each other and bring this "can-do" attitude to our other gardening endeavors that include: workshops; our Annual Plant Sale: community plantings at Naper Settlement, Children's Museum, Veterans Park on Gartner Road, and the VFW.
We require members to participate in our Make It Bake It (fall bazaar). This includes their donations (2 per member) and also working the event. This fundraiser is our largest contributor towards our scholarship program which are awarded to students graduating from 203 and 204 area schools and pursuing higher education in horticulture, environmental studies, landscape design or a related field.
Additional information can be viewed at our website: Cress Creek Garden Club. Our membership is open to anyone with an interest in gardening with dues being $25 per year. This e-mail address is being protected from spambots. You need JavaScript enabled to view it
We have some social off shoots to the club that include a monthly knitting/crocheting group; and a sewing group. Both offer instruction as well as camaraderie. We have contributed slippers and lap blankets for the elderly to Community Nursing Home and St. Patricks, helmet liners for our troops in Iraq, burp bibs for infants in Edward Hospital's Pediatric unit, lap robes for the Veterans at Hines Hospital as well as assorted items for the Make It Bake It fundraiser.
Annual Spring Plant Sale
For those Cress Creek residents looking forward to spring, members of CCGC have been adding the newest releases this season to our Annual Plant Sale Listing. This is a great opportunity to start planning your choices for your containers, patios, porches and gardens. Selections include lovely hanging baskets (many choices and colors), annuals and soil nutrients all at competitive prices. Don't let the cold weather stifle your excitement for spring readiness as our club makes it convenient for residents to pick up orders at a Cress Creek location (1413 Royal St. George Drive) just before Mother's Day weekend!
Plant Sale order forms will be available on our website: www.cresscreekgardenclub.org by mid to late February. Simply click on "Fundraisers" (found in the left-hand corner) on the Home Page and the current year Plant Info and Plant Order Forms are listed. Orders sent electronically will qualify for a "raffle prize drawing" so don't delay! Orders can also be sent through USPS. We        usually have extras on delivery day so if you prefer this option, please stop by to take a few home and get to know members of our garden club. Order forms can be found on our website: www.cresscreekgardenclub.orgg.  Also included is the deadline for orders for the Plant Sale, hours and payment procedures.   
Scholarship Opportunities
Graduating high school students in districts 203 and 204 pursuing college studies in horticulture, landscape design, environmental studies, etc. are encouraged to apply for scholarships offered by Cress Creek Garden Club. Our three fundraising events include Annual Plant Sale, Luminaria Sales and our fall bazaar, MIBI (Make It Bake It) all contribute to the funding enabling us award scholarships.
For more information on our program, please visit our website at: www.cresscreekgardenclub.org. Simply click on the heading of "Scholarships" in the left-hand corner of our Home Page to get started. In addition, we accept applications from students attending universities outside of Illinois, encourage current recipients to re-apply for each year they remain in school and adults who are looking for assistance when deciding on a career change into horticulture, landscape design, etc.  Deadline for all scholarship applications is April 1. This e-mail address is being protected from spambots. You need JavaScript enabled to view it
Community Involvement          
Members of the Cress Creek Garden Club volunteer during the months of May through October in various locations in the Naperville area for gardening maintenance. Club volunteers sign up for spring planting and fall cleanup in addition to weekly assignments of watering, weeding and deadheading in the Paw Paw Garden at Naper Settlement, Children's Museum,  Veteran's Parkway and the VFW.
In 2009, the Cress Creek Garden Club was inducted into the Naperville Distinguished Heritage Hall of Honor by the Naperville Heritage Society in recognition of more than 30 years of service to the Paw Paw Gardens.
In 2015, CCGC received the Presidential Service Award for its ongoing volunteer efforts at Naper Settlement (who partnered with the White House to become a Certifying Organization for the President's Volunteer Service Awards). This is a national program recognizing Americans who have demonstrated a sustained commitment to volunteer service. Such an honor for our club and Paw Paw continues to be an enjoyable endeavor for our members.   
Our Garden Therapy sessions are held the third Wednesday of every month from 2:15-3:15 P.M. at the Community Nursing and Rehabilitation Center located at 1136 North Mill Street in Naperville. We encourage the residents at each session to get involved with coloring, flower arrangements, simple crafts, singing songs and playing Bingo. Many of the residents were gardeners at one time and they enjoy working with flowers or a craft to create something lovely to share with visitors in their rooms. Both residents and our club members benefit from these sessions and some even recognize each other by name at monthly visits. This initiative runs all year and CCGC has been at this facility conducting monthly Garden Therapy sessions for over thirty-five years.
Any questions, please see our website: www.cresscreekgardenclub.org This e-mail address is being protected from spambots. You need JavaScript enabled to view it.